Dr. iur. Maria Walter Burkhardt, LL.M.
Position
Partner
Expertise
Maria Walter represents clients before state courts, arbitral tribunals and administrative bodies, focusing on corporate, commercial and banking litigation, including FINMA enforcement proceedings
Professional experience
Admitted to the bar since 2006; law clerk with the District Court of Zurich (2003–2005); associate with Lenz & Staehelin (2006–2007 and 2008–2011); legal counsel with the Swiss Financial Market Supervisory Authority FINMA (enforcement proceedings against banks; 2012); legal counsel with Coutts & Co Ltd (2012); partner with Nater Dallafior Rechtsanwälte AG, Zurich, since 2012
Languages
German, English, French
Professional recognitionLegal 500, 2020
:
"The precise and persistent Maria Walter Burkhardt is an excellent litigator in court and regulatory proceedings."

Education
Studies at the University of Zurich (lic. iur., 1998; Dr. iur., 2005); research and teaching assistant with the chair of private and commercial law at the University of Zurich (Prof. H.C. von der Crone, 1999–2001 and 2003); post graduate studies at the Harvard Law School (LL.M., 2008)
Professional affiliations
Zurich Bar Association (ZAV), Swiss Bar Association (SAV), Swiss Arbitration Association (ASA)
Publications
Walter, Maria: Gedanken zum einstweiligen Rechtsschutz gegen pflichtwidriges Handeln von Verwaltungsräten, SZW 90 (2018), S. 531 - 546
Walter, Maria: Ans Gesetz gebunden und doch frei: Wie Richter Urteile fällen, in: Zweifelsfälle, hg. v. Christine Abbt/Oliver Diggelmann, Bern 2007, S. 137 - 153.
Walter, Maria: Die Wissenszurechnung im schweizerischen Privatrecht, Bern 2005 (= Abhandlungen zum schweizerischen Recht, Heft 690).
von der Crone, Hans Caspar/Walter, Maria: Konzernerklärung und Konzernverantwortung, SZW 73 (2001), S. 53 - 68.
Dr. iur. Maria Walter Burkhardt, LL.M.
+41 44 250 45 80 Phone
+41 79 175 68 69 Mobile
walter@naterdallafior.ch
Download vCard ›
Download PDF ›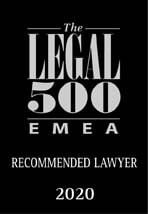 All Lawyers
Manuel Arroyo ›
Mathis Berger ›
Roberto Dallafior ›
Zoe De Santis ›
Andrea Etienne ›
Reto M. Hilty ›
Biljana Malesevic ›
Hans Nater ›
Patrik Salzmann ›
Benjamin Schumacher ›
Tobias Thaler ›
Maria Walter Burkhardt